Skip to Content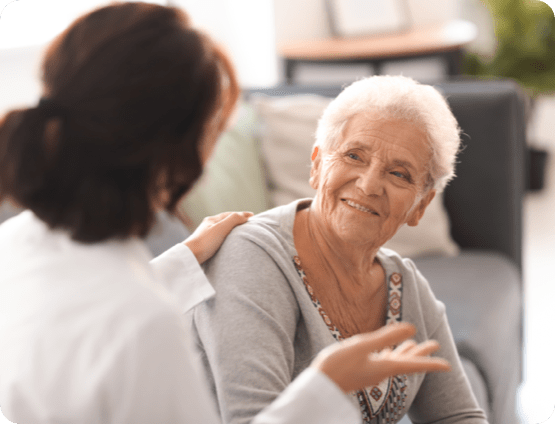 Mobile Denture Clinic Services in Ottawa
We know that you want to make sure your dentures look and feel great, but that sometimes getting around can be difficult. Because Ottawa South Denture Clinic understands the challenges seniors face each day, we offer a Mobile denture service. Don't stress anymore about how you will get to your denturist, we will come to you. Ottawa South Denture's Mobile Denture Clinic will come to you, making it easier for you.
We offer mobile denture services to Ottawa patients who need emergency and non-emergency work on their dentures. We do mobile denture repairs, denture relines, touch ups, rebasing, and more. We also work closely with nursing homes in the area, so if you think your establishment could use our services, contact us today.
100% Happiness Guaranteed
Our #1 priority here at Ottawa South Denture Clinic is your happiness! Which means we stand by our service 100%,
no matter what, no questions asked, no ifs, no ands, no buts.

A Superior Experience
We combine an outstanding patient care, the latest denture technologies and welcoming atmosphere to create the ultimate denture experience for you.

A Better Smile
We will restore your beautiful smile, improve your oral health and help you regain your confidence.

Confidence
We are leaders in the field of Complete and Partial Dentures. We specialize in state-of-the-art Suction Dentures technique, Implant Dentures, Repairs and Relines.
Happiness Guarantee
We are so confident you would love our services, we provide 100% Happiness Guarantee.
Mobile Denture Repair Is Convenient & Saves Time
At Ottawa South denture, we are dedicated to our patients. Our mobile denture clinic will arrive at your door, ready to repair or reline your dentures. We believe none of our patients should have to live with a broken denture for long, and we don't want you to have to wait until you're able to make it into our offices. Most importantly, we don't want you to have to struggle with the physical toll visiting a doctor's office if you don't have to. That's why we started our Mobile Denture clinic in Ottawa.
After our mobile denturist arrives, you can continue to go about your day. Our Ottawa denture patients don't need to dedicate hours of their time to visit our office if they don't have to. Instead, we structure our visits around your schedule and special needs. Instead of loading your assistive equipment into a loved one's car, enjoy the benefits of having a qualified denturist visit your home. We can perform relines, repairs, and fabrication work on-site.
Frequently Asked Questions
How fast do you respond to emergency repair requests for dentures?

We always fast track emergency requests. Depending on when the call is made, we will show up either on the same day, or following day.
Who could benefit most from your mobile denture service?

We offer these services for those who have a hard time or simply can't make it to our clinic. People who can benefit most from this service are:

People who were recently hospitalized, or just released from the hospital
Residents in elder care facilities
People who are bedridden due to illness
People with mobility impairments
People who prefer home care for the privacy and convenience
What will you need from the patient or facility when coming to work on dentures?

We will need a clean room with seating and clear table space where we can do our fabrication, relining and repair work. We can do our assessments wherever is most comfortable for the residents of the facility, or in the patient's home.
Your page says you do denture fabrication as part of your mobile services. What is this process and what kind of dentures do you fabricate?

During our mobile services, there are a number of parts of the fabrication process we can do on site. For patients receiving dentures for the first time, they will need to come to our clinic at some point, especially if teeth need to be extracted. If that isn't possible, then we can at least perform an initial consultation and create a mould for the dentures. We will create the dentures in our lab and return to have them placed in the patient's mouth.

For existing patients in need of replacement dentures, we already know the exact materials needed to fabricate their dentures and can bring them with us. All we will need to do is to take some measurements to make lining adjustments, and then we can make the new dentures for you on site!

The only service we can't perform as a part of our mobile service is installing dental implants. This surgery requires anesthesia and specific tools, and we need the tools in our clinic to perform the procedure.
How often can you visit a home or elder care facility to provide mobile denture services?

Any patient with dentures should have them checked once every six months to assess the condition of the dentures as well as the patient's mouth. That is why we visit elder care facilities that frequently. For patients with dentures that are still living on their own or with loved ones, we recommend having us come out that frequently as well if they can't make it to our clinic.

Most personable and welcoming! Very professional and supportive during visits. His work is none to compare, precise and natural looking appliances. Easy to converse with and will make recommendations when required. Follow-up visits are never an issue. My experiences has always been very positive. Thank you
There is no question about it , Eugene deserves 5 stars plus.
I found the procedure to have suction dentures was extremely well thought out with Eugene explaining every step of the way carefully and with a lot of patience. He also has made very sure, after having made the dentures, that any small readjustments are done, even by visiting my home to do this! I now have a very comfortable set of new teeth, firmly gripping my gums by suction, yet removable every night for cleaning!
High caliber expertise and professionalism. Eugene has done an amazing job with my mother complicated dental reconstruction work and I am more than grateful for his exceptional quality care.