Skip to Content
February 10, 2020
|
Dentures
How Long Do Dentures Last?

Typically, dentures should be checked every year, but, at some point, they will have to be replaced.
Nevertheless, proper care will help last longer. Generally, professionals recommend renewing dentures every 5 to 8 years.
Over time, artificial teeth get worn out. Also, your gums may eventually change shape or shrink. If you happen to live in Ottawa and would like to learn everything about dentures, this article is for you. Read on!
What is a Complete Denture?
This type of denture replaces all the teeth in one arch, either upper or lower jaw.

A complete denture consists of a plastic base that serves as gum tissue.
Back in the day, porcelain was used for this purpose. Although is not especially common, some parts of a full denture can be made out of metal.
This material makes the denture more resistant, and also allows its base to be thinner, a factor that could solve some speech problems.
Factors that Affect Longevity
There are a number of factors that can affect the longevity of your dentures.
1) Strength: You might consider this point when deciding against a premium or an economy appliance. Although denture reparations are possible and common in Ottawa, repairs generally don't offer the same quality and level of strength.
2) Denture Wear: the longevity of the materials which a denture is made of will definitely affect its durability. Plastic and porcelain pieces tend to wear over time. Even if repairs are always an option, denture wear usually coincides with progressive changes in the patient's jaws.
3) Denture Fit: this characteristic does change over time, and plays a key role in a denture's longevity. Replacing the part that rests on gum tissue can renew this fit and therefore, extend the appliance's life span. However, if it has already provided extensive service, replacing it is probably the best possible option.
You can control to some extent how long your artificial teeth will last. Some things, however, are beyond human control, and eventually, a denture replacement will likely be necessary.
Reasons for Denture Failure

Similarly, one or more of many factors can lead to dentures breaking or failing.
A) Breakage: The most frequent types of denture base fractures or tooth loss. Also, upper dentures tend to break twice as often as lower ones.
B) Wear and Tear: after years of use, dentures typically reach a point where they have to be replaced. The deterioration is normally due to wear or staining.
C) Natural Jawbone Changes: patients' jawbones change over the years, to the point that the previous denture is no longer suitable. Although this is an expected change, the rate will vary depending on each patient.
In the end, it's best to plan for an eventual denture replacement.
How to Clean Dentures
Dentures require proper maintenance. To keep them clean, stain-free and looking good, take the following tips into consideration: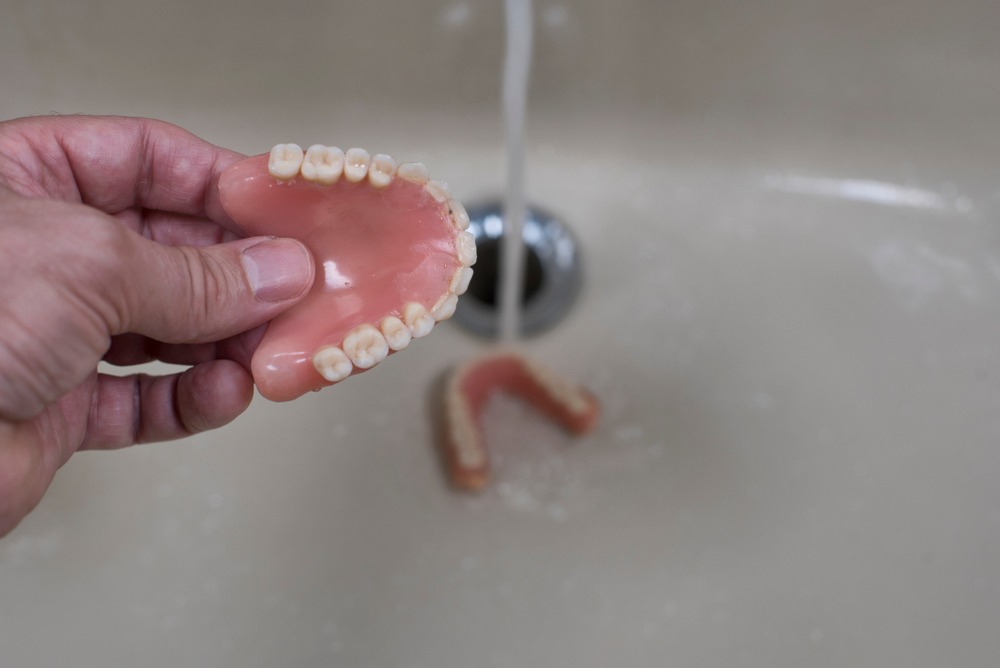 • Clean them after every meal. All you have to do is to run water over your dentures to remove any food debris.
• Handle them with care. Make sure you don't bend or damage the appliance when cleaning it.
• Wash your mouth every time you remove your dentures. Use a soft toothbrush to clean your cheeks, tongue and the roof of your mouth.
• Brush them three times per day, and soak them overnight.
Signs That Your Dentures Need
to be Repaired or Replaced

Dentures are a great solution for missing teeth and for enhancing one's smile, unfortunately, they don't last forever. We share some signs and indications that it might be time to replace or repair your current dentures:
Loose Dentures – Denture need to stay securely in place to help with chewing and speaking confidently. If they are becoming loose, they can either be repaired or replaced.
Painful Dentures – If your dentures are causing you any pain or discomfort it's usually because they don't fit well or have gotten too worn out. To avoid any further pain or complications, see a denturist right away.
Damaged or Discoloured Dentures – If there are chips or cracks in your dentures, depending on the extent of the damage they can either be repaired or will need to be replaced. If you drink a lot of coffee, wine, or tea, it can causes undesirable discolouration.
If you have any questions about dentures, contact us today!
When it comes to dentures in Ottawa, our Ottawa South Denture Clinic is the trusted authority with both the experience and bedside manner our patients have come to appreciate.