Skip to Content
The City of Ottawa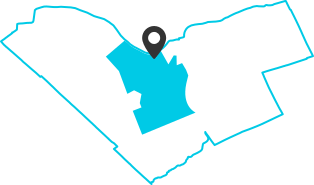 Denture Services in
Nepean, Ottawa
Implant Dentures, Suction Dentures, Digital Dentures and More!
Ottawa South Denture Clinic is proud to provide a wide variety of high-quality denture solutions for your missing teeth. Our team of expert denturists offer their expertise with Implant dentures, Suction dentures, Digital dentures, Denture repairs and more – whatever your denture needs are, we got it covered! We are the locally trusted and reliable Nepean denture clinic.
Whether you're just considering wearing dentures and want some guidance, need to get your dentures repaired, or you're in the market for a brand new set of dentures, we're here to help with all your denture needs. Contact us and get started by booking a free consultation!
Our Nepean Denture
Services
Suction

Dentures Spotlight

Lower Suction dentures created by an experienced denturist means you can eat, smile, and
enjoy life with newfound confidence. You don't have to worry about any awkward incidents of your
dentures becoming unglued mid-conversation or at a meal with loved ones. Some benefits that you
can look forward to are:
No lifting, no floating
Improved chewing ability
A more natural feel, almost like real teeth
A reduced need for implants
No messy adhesives involved
Fewer sore spots, which can be common with dentures
Customized to every ridge and detail of your gums for a suction fit
Looking for a
Nepean Denture Clinic?
Denture Services in Nepean
Our team of experienced denturists are committed to providing reliable and affordable denture solutions to all our denture patients in Nepean. Our denture lab utilizes advanced technology and high-quality materials to ensure precision made dentures that are custom tailored for your needs. You can trust the denture professionals at Ottawa South Denture Clinic to bring back confidence in your smile and to provide you with a set of dentures that you'll love.
If you're looking for denture services in Nepean, then look no further! Our comprehensive denture services can take care of all your denture needs, from denture repairs and relines to getting a brand new set of dentures – we do it all! Contact us today to get started. Book a free no-obligation consultation to learn more about your denture options and how we can help.


Most personable and welcoming! Very professional and supportive during visits. His work is none to compare, precise and natural looking appliances. Easy to converse with and will make recommendations when required. Follow-up visits are never an issue. My experiences has always been very positive. Thank you
There is no question about it , Eugene deserves 5 stars plus.
I found the procedure to have suction dentures was extremely well thought out with Eugene explaining every step of the way carefully and with a lot of patience. He also has made very sure, after having made the dentures, that any small readjustments are done, even by visiting my home to do this! I now have a very comfortable set of new teeth, firmly gripping my gums by suction, yet removable every night for cleaning!
High caliber expertise and professionalism. Eugene has done an amazing job with my mother complicated dental reconstruction work and I am more than grateful for his exceptional quality care.